[ad_1]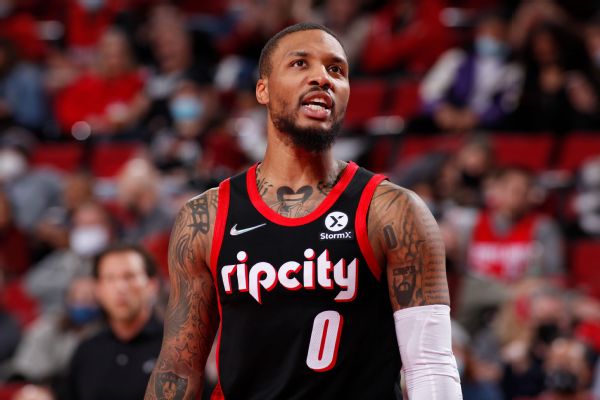 LAS VEGAS — Damian Lillard has made it clear over the years that he wants to stay with the Portland Trail Blazers throughout his career and will live with it if the organization can't win a title during his playing career.
Lillard, speaking Saturday at a news conference announcing his two-year extension with the Blazers, was asked about how he doubled down on his desire to stay in Portland through thick and thin.
"I've always said that if I do something that goes against who I am, and say I do end up winning, I know me better than any of y'all know me," Lillard said. "So I'd be happy with it, because I don't think anybody wouldn't be happy being a champion, but it wouldn't be as fulfilling to me as I would want that moment to be.
"As long as I have an opportunity to do it, a good opportunity to [compete for a title], I'm willing to go out however."
Lillard said several times on Saturday that he had to block out noise from people saying he had to go elsewhere to win a title. But he made it clear that he was confident in his desire to keep trying to bring the Blazers back into contention.
"That's where I've always stood, and that's where I stand," Lillard said. "It's going to get done or it's not going to get done. I don't want to go out there with this crazy uphill battle that I'm fighting and we need a miracle times 10 to get it done. I just want a shot at it, and if that happens and it doesn't work out, then I can live with that."
Lillard, who played in just 29 games last season while dealing with a core muscle injury, said it was meaningful to him to not only sign another massive extension that helps set a new bar for younger players, but to also be the player who has bucked the trend of switching teams in an era when many stars frequently move around looking for better situations.
"I feel proud to be that guy," Lillard said. "Because I don't think you earn something like this just by going out there and scoring a bunch of points. And something that's missing in our league is the character and the fight and the passion and pride about not just the name on the back, but the name on the front and how you impact the people that you come in contact with.
"And I think because of how much I've embraced that and I haven't pretended to embrace it, that's really who I am, and I think this just shows the power in that. It shows that there's something there for being committed and having your heart in the right place and having your mind in the right place."
Blazers coach Chauncey Billups reiterated how much Lillard's dedication meant to the team, calling it "an incredible day for our organization."
"We're very, very fortunate in our market, in our franchise, to have a guy like Dame," Billups said. "Superstars in our game today are different than our generation, in the way that they've taken ownership of their careers. And what I mean by that is, there's a lot of superstars that, if they don't want to be somewhere, they find a way to get where they want to go. And Dame has been very clear about his intentions and being in Portland and playing in front of the Portland fans, and I got a lot of respect for him for that because it just doesn't happen."
Billups, who won a title with the Detroit Pistons in 2004 and was widely considered one of the most clutch players of his era, knows how much Lillard's commitment means to a Blazers team that is trying to turn things around after going 27-55 last season.
"In our game today, you got two kinds of teams," Billups said. "A team that has a superstar and teams that are looking for one. We're lucky enough to have one and one that wants to be here. So that's great. There's been a lot of change in this organization; he's stuck by us all, through it all."
Lillard is hopeful that by staying in Portland, he will be able to show a whole new generation of young players that they can still find happiness in one city, even if their team hits some tough times through the years.
"Hopefully, it will have an impact going forward," Lillard said. "It don't got to be, 'Oh, the media says this' or 'Everybody's telling me this.' And you just get swayed into doing what everybody is trying to convince you to do. Because nobody is going to live with those decisions like you will. So I'm proud to be the person to jump out, and this organization to show this type of trust and faith in me.
"But I'm even more proud of what a commitment like this from the organization represents. And I hope that that's what will reach guys that will come behind this."
[ad_2]

Source link